–> This is a pre-event interview in the run-up to the Leaders in Sustainable Finance Event on 26 January 2023
Jeroen: Leon, thanks for taking the time to speak to Leaders in Finance related to our sustainable finance event coming up. First of all, for people that don't know you, could you please introduce yourself?
Leon: Let me start introducing myself by saying that with ING in the Netherlands, 13,000 colleagues are responsible for sustainability and they work on a daily basis to do their utmost best to help ING and above all our customers in the sustainability transition that is very much needed. As head of sustainability in the Netherlands, I have the privilege and the opportunity to catalyse all that energy and enthusiasm of those colleagues.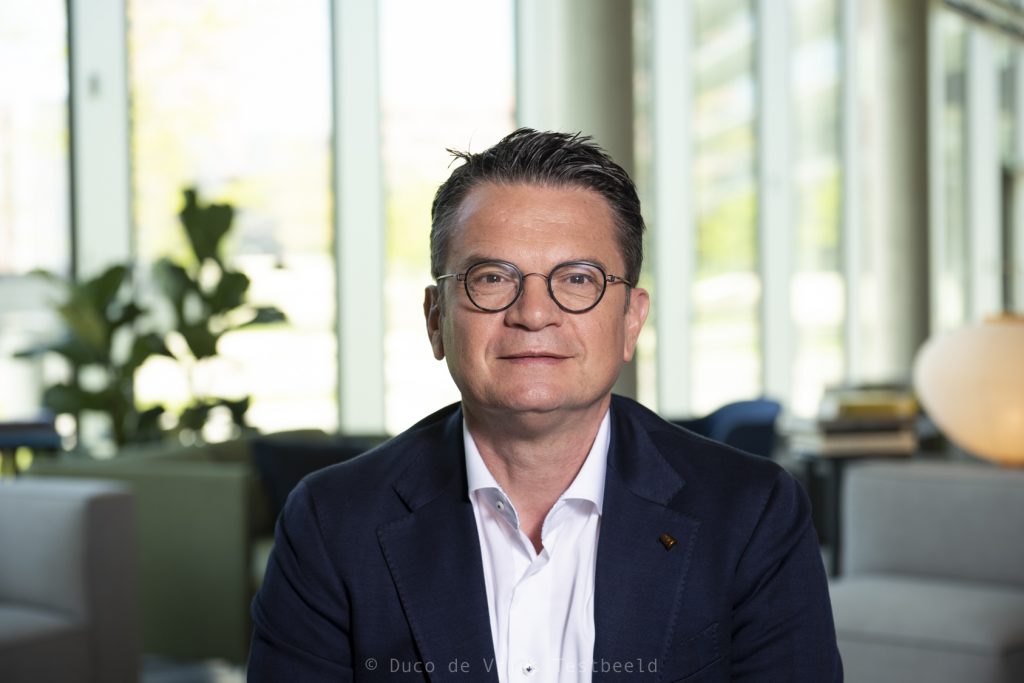 Jeroen: Why do you enjoy your job so much? That's an assumption, but knowing you a little bit, I think you're excited about your job, right? Why is that the case?
Leon: Absolutely! I think because it has the unique combination of being incredibly relevant. Sustainability is on top of the biggest challenges that society has. And also, it's incredibly urgent. You can't open a newspaper or watch a tv show without anything around sustainability being mentioned. I think society is in need of impact and an important part of that impact could come from businesses. If you have the unique opportunity to do that within a bank with the size, reach and scale of ING, that is a beautiful challenge, but also an incredible responsibility.
Jeroen: So you can have a lot of impact?
Leon: I cannot have a lot of impact myself directly, but I think that our customers and our employees can have a lot of impact. I can catalyse that impact from my position.
Jeroen: If you look at the whole financial services industry and we zoom out a bit, what would you say is the largest challenge? What would you say is the big challenge for financial institutions or the whole sector related to sustainable finance in the whole transition that we are making as a world, but specifically for the financial industry?
Leon: I think it would be a mistake if we as a sector think it is a challenge that only concerns the financial sector. The challenge is so big, there is not a single sector, a single institution, a single company or a single government that can solve this on its own. In my opinion the key challenge is, "How can we collaborate and cooperate within the sector with our clients, but above all with governments and NGOs, etcetera?" What is so important is that we don't only achieve the position that is needed towards a net zero society from a financial sector point of view, but that it actually happens in the real economy. And of course, the financial sector has a role in financing that transition, but also that we do it in an inclusive way. In a way that we end up in a society which is net zero, but also in a way that we take everyone with us in that transition.
Jeroen: Are you optimistic about the transition? Meaning: do you think we are going to be on time without too much damage?
Leon: I'm optimistic by nature, but it would be a little naive to think that we are ahead of track. The reports that just came out before COP27 were alarming and rightfully so. So there are two ways you can look at it. We already achieved a bit more compared to pre-Paris agreement times, but not enough to stay within the 1.5 degrees that we all think is necessary to have a future for the people on this planet. The transition towards a futureproof planet for all people requires a lot of trade-offs. A transition should be affordable for businesses, for consumers, that is more the economic side, but the social perspective is that we should be able to take everyone along. And then you need to make trade-offs. In the case of energy, the trade-off between climate alignments, net zero, affordability of energy and availability of energy. In those trade-offs, you hear a lot about "We should exclude this, exclude that", but exclusion alone is not the solution. Yes, we can already start excluding certain areas, like we exclude coal, we exclude new exploitation of oil and gas. But on the other hand, I think the current energy crisis has shown that for the continuity of our society we are also still depending on some fossil fuels. So that is the balancing act that we're all looking for. There are a lot of stakeholders with different opinions on how you should have that balance and what the speed should be. But if we all would keep the end goal in mind, and that we all have the same interest in achieving that end goal, I think we could join forces a little bit more and create more impact.
Jeroen: When I watch the news and when I talk to people sometimes, I get depressed. Loss of biodiversity, massive climate problem, all kinds of social issues, which we were just talking about as well. And so on and so forth. Are there also opportunities? Do you see really interesting things happening where you can make me a little bit more optimistic about our future?
Leon: I'm not your personal psychiatrist, of course! In general, I think depression is not a good way to start your Christmas break. Back to that transition that is needed, we already said that in order to achieve net zero, we are in need of an inclusive transition. That transition means in most sectors a different technology tomorrow than we use today. For instance in energy we need to move more towards solar and wind. In automotive, we need to move from combustion vehicles to electric or hydrogen vehicles. That goes for the entire transportation sector. The food industry should develop a more plant-based menu. Houses, the largest portfolios of the Dutch banks are mortgages, should become more energy efficient. This transition needs investments and banks are very well equipped and also eager to finance that transition. That means that we need to build new knowledge in these sectors, knowledge about these changes that are needed, in order to support the different customers in those sectors. I think that with the reach and scale that we as a bank have, we can definitely also make a big impact. What I very often see is that we start thinking about banks needing new products, we need to develop green loans, green products, but I think it's also about the engagement and the conversation that we have with our clients in that transition, how we advise in a proper way and then financing is more at the end of that pipeline, that it is a starting point. Because a green loan is not a different loan than any other loan; it's the asset that we're financing that is different. And creating more knowledge about what is happening in that economy as a bank, that could also really help us on understanding risks and accessing risks in a better way and also pricing them properly.
Jeroen: The last question from my side, as I mentioned in the introduction, we are hosting the Leaders in Sustainable Finance event on the 26th of January 2023, are you looking forward to joining that conference?
Leon: Yes! Get inspired, learn from leading people, but also use the opportunity to share. It's always good to go somewhere where you can get some inspiration from a different angle. That is also how the program is set up, it's a cross-sector, but also an outside-sector view. Obviously meeting people, I think a lot of people are fed up with all these web conferences, so having real face-to-face meetings provide you with a different kind of energy. Most of the time during these meetings it's not what happens on stage, but what happens off stage. Having those one-on-ones with people during the breaks, sharing best practices. But also see if you can lay a foundation for the collaboration that is so needed. Personally, I get a lot of energy, renewable energy, back from that.
Jeroen: That's a great one to end on. Thank you so much, Leon, we're very much looking forward to have you at the event as an active participant. Thank you so much!
Leon: No worries, thank you!
-> Leon WIjnands, is the Head of Sustainability ING NL and is a member of the Advisory Board of the Leaders in Sustainable Finance Event that takes place on 26 January 2023.