Want to learn more about Don Ginsel, please also listen to a long format interview with him previously with Leaders in Finance (episode #29).
Transcriptie: LiF Don Ginsel
This is Leaders in Finance, a podcast in which we look for the person behind the success. We are talking to the leaders from the present and the future about what drives them, both in their careers and at home. Why? Because in the financial sector, we should be more open. First, a great thank you to our partners in this podcast for their support. They are: Kayak, FG Lawyers, Odgers Berndtson executive search en Roland Berger. Live from Money2020, we are talking to Don Ginsel, the CEO of Holland Fintech. Your host is Jeroen Broekema!
Jeroen: Welcome to a new episode of Leaders in Finance, live from Money2020 Europe, here in Amsterdam. I'm delighted that we have Don Ginsel, the CEO of Holland Fintech, with us. Welcome, Don!
Don: Thank you, Jeroen, very nice to be here!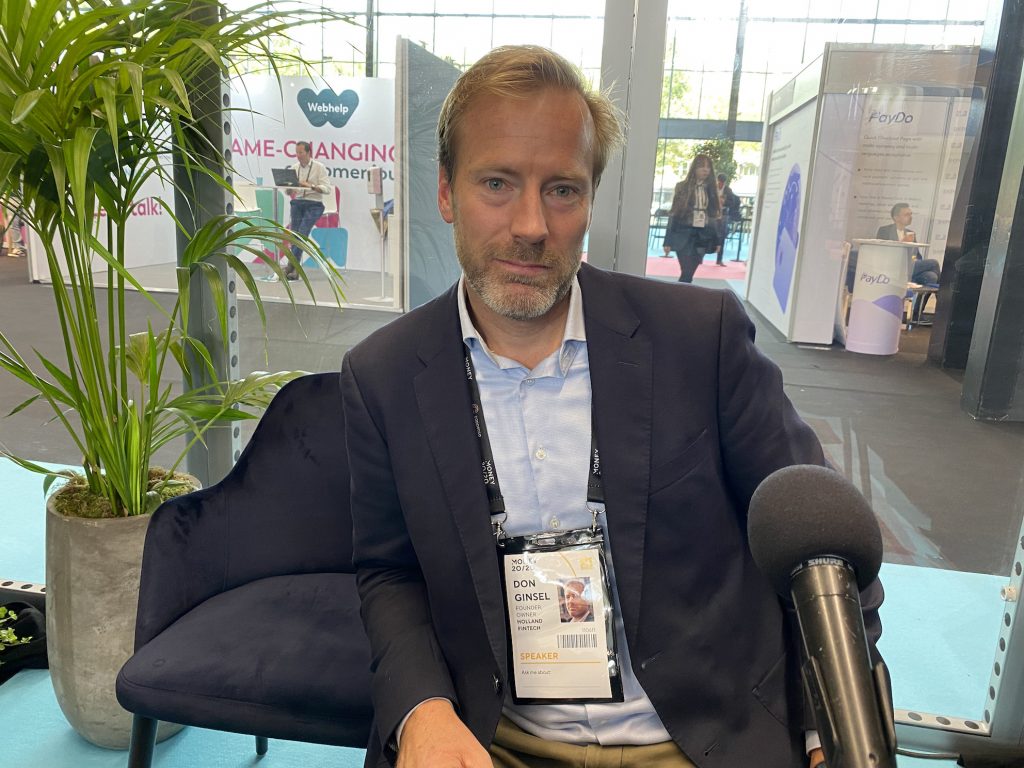 Jeroen: It's wonderful to speak to you in this setting. Last time we spoke more in a private setting for a regular episode of Leaders in Finance, that time was really about what I tend to call the person behind the success, Don in this case. That was great. And today, I want to obviously talk more about Money2020. It just got started now, on Tuesday afternoon, so it's the first day. I wonder, how does it feel to be here in a somewhat post Covid-19 atmosphere?
Don: It's kind of weird, I think for a year and half, everything seemed to have been paused. But the minute you walk into the door here, you actually feel like nothing has changed from the perspective of how people meet each other, how excited they are to actually come together at such a big conference and to actually dive into the world of all the new developments around them. I think that's really wonderful to see. Over the summer, I've spoken to a lot of people that are really keen on meeting each other again. You basically see that excitement here at the conference as well. It really makes it a nice place to be at the moment.
Jeroen: Absolutely! I felt the same atmosphere and a lot of people talk about it. Although it's a tech world and finance world, but tech for a big part, it's great that people can meet in person. How are you doing and how is Holland Fintech doing?
Don: I'm personally doing great; it was really nice to have you at our dinner table in a previous session. So, you've got a bit of a sense of my family. My wife and daughter are doing very well at the moment as well. I think you see in general that schools are getting back to normal, work is getting back to the normal before Covid to a certain extent. I think everyone is feeling quite good about that. Personally as well, I'm really happy with how Holland Fintech is evolving, we've got a fresh board since the beginning of the year and now we're rolling out our working program and we see a lot of positive engagement from the member companies in our network. So, we're really happy that we're able to push that forward. And also, like the excitement we see here at the conference, especially after the summer when it felt like measures would be further relieved and things were getting more back to normal, everyone's looking for a new business and is excited about new plans and ideas where I think it has been really silent for about a year and a half for new initiatives and new investments. I see now that everyone's craving to do something and that atmosphere is great to be in business.
Jeroen: Yeah, that makes sense. I can totally relate to that. You've been walking around and I'm sure you've been talking to a lot of people already, do you have a sense of what is new at Money2020 today? Although it's only almost the end of the first day, but did you already get a feeling?
Don: Yeah, sure. It was funny to note that it started a big slower than I'm used to. Normally, the door would be jammed, basically, with everyone trying to get in at 9 AM. Now, everyone took a bit more time to get in, perhaps also due to the Covid testing situation that allowed everyone to spread out a bit more. There's also the excitement that slowly builds up during the day. You can probably hear it in the background, the buzz is really on and there's just so much you see going on. Everyone's really happy to meet each other and talk to each other here again. That's not new, if you compare it to two years ago. But of course, over the past two years, we've really missed it. The conference itself is slightly smaller than two years ago, there are now around 3000 attendees, I think, that are expected. Normally that is around 6000. But it really helped, because I think people are now feeling more comfortable in a more spacious atmosphere, want to be able to keep at least a bit of distance. At the same time, you also see that people are indeed almost forgetting that the world outside is perhaps completely different, there are no mouth covers and people are just greeting each other, almost like nothing happened, compared to two years ago.
Jeroen: If we look at the exhibitors, maybe we can have a look from two angles. The first angle, the start-ups and the scaleups, and the other angle more the traditional financiers or the more traditional banks, insurances and whatever we have. Can you look at both and maybe first start with the start-ups and scaleups, what would you see as different?
Don: This is a very interesting topic, because I think there are quite a lot of new players on the ground. But funnily enough, it's not really the younger start-ups. Generally, it's quite costly to come to Money 2020, so we actually see that a bit more mature companies are more likely to come here. But there are a lot of new players. I think it has a lot to do as well with the accelerated growth that we saw with a lot of fintech players over the past year and a half. Because of course, the world socially stood still, to a certain extent. But from a business perspective, especially everyone in digital services, we've seen a big acceleration because everything had to be remote, everything had to be digital, wireless, contactless. That spurred some fintechs to tremendous growth. Just as we saw it with the funding rounds, so the investments in fintech almost increased just as much as the years before, even though people were more hesitant to meet each other. I think what you see now, there are actually a lot of new companies and new faces as well at the conference here. I think that's a great win.
Jeroen: That's interesting. And from a more traditional financial institution perspective?
Don: You also see a slight difference, I think. Up until two years ago, a lot of financial institutions were full on marketing themselves as a high-on innovative company, doing all kinds of investments, spin-outs and new products themselves. I think that's what we see in the past two years, especially in Europe and the Netherlands, they've become much more modest. They've been feeling that not all of the desired innovations actually hit the ground, some of the investments they've made they had to write off or make changes to. I think that really made them more modest now in their perspective. They still want to be here, they want to learn, they want to make new connections but they're not here to tell you that they're going to rule the world. They really are taking a much more modest role. It's interesting, I think it's probably a pendulum that will swing back and forth and at some point, they will be able to move much more forward. But especially over the past two years, there's been so much focus on compliance issues within the financial industry, like anti-money laundering, the whole client screening, it's been very hard for banks to focus on innovation, I would say.
Jeroen: When I was walking around today, I haven't seen any disrupting fintechs, only enabling. Did I take a certain route, or has it always been that only enabling fintechs go to Money2020?
Don: Yes, I fully agree that there's probably a limited number of fintech companies here that are more in the disruptive field. Money2020 is traditionally focused on the payments industry. And the payments industry is relatively established, so the role that the banks played and the credit card companies and the payment enablers behind that play, that game hasn't changed that much over the past years. You see especially new adults; I think that's what you mean with the enablers. These are fraud prevention, data analytics, new customer facing. But they're all sort of built on solutions and I think they gained the most from going to a conference like this because they could actually talk to the whole industry all in one place. If you talk about parties that really want to disrupt the market because they want to make consumers take a different journey, these consumers are not here. These kinds of companies are not benefiting that much from actually going to a conference like this. It's really B2B-oriented and the big buyers here are generally the banks. That's what most companies are aiming for and I think that's also the sub selection of fintech companies that you'll find here.
Jeroen: Yeah, so it's not a trend, from that perspective.
Don: No. In general, three quarters of fintech is rather more of an enabler than a challenger. But it is something that indeed depends a bit on what kind of place you go to, which part of the selection you get to see.
Jeroen: Before we wrap up, is there anything you're absolutely planning on doing here at Money2020 Europe? Apart from speaking, because you will be speaking on Thursday, right?
Don: That's correct. I'll be moderating a panel on the portability of innovation. So, we're actually going to look at how – across different fintechs, across different regions – it would actually uphold also in other regions. Whether you can copy that, learn from that, how that works. I think that's going to be quite interesting and I'm looking forward to have that discussion. What I'm especially keen on is meeting as many people as I can. I've been craving to meet a lot of people over the past two years and this is the place where I can actually meet most of them, all at once. That's fabulous. For the rest, I'm trying to survive my schedule, which is pretty tight with meetings on end, a couple of things to do at night as well. Altogether, I hope to at some point get out of this bubble on Friday and have survived. And it will definitely be a lot of fun, but it's exhaustive at the same time.
Jeroen: You look extremely energetic, so that's great and some caffeine will probably help. Before we really end, is there anything you would like to share that I didn't ask you?
Don: No, I actually think you asked some nice questions. What I perhaps would like to convey, to capture a bit of the excitement here, one of the things that I find so funny when I was entering here, you actually go through a tunnel that brings you through some kind of fairy-tale land.
Jeroen: Totally!
Don: You open up and you're at this conference and it's a very good way for them to show you that you can leave the rest of the world behind you and you're in a different zone now. And you actually see that it works for the people that are here. The excitement goes up, everyone is shaking hands like never before. I think that excitement captures that it's really nice to be here from that perspective. It's hard to convey that through audio alone, but that also gives me the energy to be here and survive the coming three days.
Jeroen: Wonderful, I love how you've described that. Actually, you did convey it totally over audio, that's fantastic! Thank you so much, Don, for taking the time. I'm looking forward to talk again any time soon.
Don: Thanks, Jeroen. It was fun!
Jeroen: Thank you!
You've been listening to Leaders in Finance. We hope you've enjoyed this episode and we do appreciate very much any feedback you might have. What's keeping you busy and whom would you like us to talk to in the future? Please let us know through an Apple or Google review. You can also contact us through social media platforms or directly by sending an e-mail. We would very much appreciate it if you reach out to us. We would also like to thank our partners for their ongoing support in making this podcast possible. They are: Kayak, FG Lawyers, Odgers Berndtson executive search en Roland Berger.