This is Leaders in Finance, a podcast where we find out more about the people behind their successful career. We speak with the leaders of today and tomorrow to discuss their motivations, their organizations and their personal lives. Why? Because the financial sector could use a little more honest conversation. our guest this episode is a true global citizen, having worked in many different countries. How does he overcome cultural differences in the workplace? "Being open-minded, have no preconceived judgement on how people should operate, try to basically blend in by opening up and then it's about hard work, consistency, predictability and respect." Thankfully for us, he brought a quote from one of his favourite books on the subject, "Germans always complain that the British are disorganized, chaotic and always late. Brits think exactly the same about the French. Indians complain that the French are rigid and flexible and obsessed with deadlines and structure to the point that they are unable to adapt. So you see, it's a question of who you are talking to and what your starting point is." And of course, our guest has some sound advice for the younger generation. "Don't be afraid to take risks, just do immediately the dream job that you want to do. If you have an intuition, if you have a gut feeling, go for it, don't be afraid to take risks, especially when you're young." Our guest this episode is Arnaud Denis, Group CEO of MeDirect. Your host, as always, is Jeroen Broekema.
Jeroen: Welcome to a new episode of Leaders in Finance. This week, I welcome Arnaud Denis, the Group CEO of MeDirect. Welcome, Arnaud, to the show!
Arnaud: Welcome, Jeroen, thank you!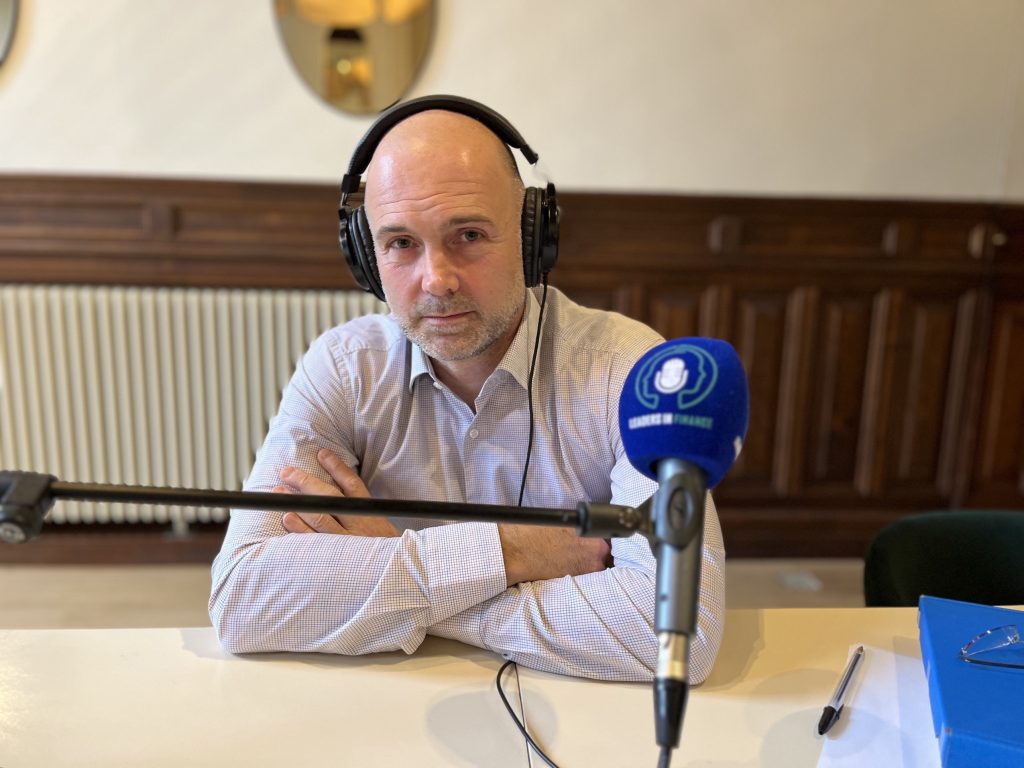 Jeroen: Wonderful that you are here in the Netherlands. Before I introduce you, I would like to thank the partners of Leaders in Finance for their support. These are: Kayak, EY, Odgers Berndtson Executive Search and Roland Berger. Without them, this podcast would not be possible, so thank you very much. Furthermore, I would like to point out to our listeners that I recently published a book in Dutch, it's called 100 Gesprekken, de mens achter het succes. So if you are interested, please go to boek.leadersinfinance.nl or to one of the well-known book sellers online. To introduce Arnaud, the following: Arnaud Denis grew up in Thailand and Indonesia and went on to study in France. He has a Master of Business Administration in Finance from Emlyon business school and did a Master in Strategic Management at HEC Paris. In his career he fulfilled positions such as Managing Director at Société Générale's Fixed Income division based in New York, Deputy CEO and CEO at Eurobank in Poland and First Deputy CEO of Rosbank, Retail Société Générale's Russian retail platform. In 2019, he started at MeDirect: a pan-European wealth neobank currently operating in Belgium, the Netherlands and Malta, where he is Group CEO. Arnaud is 54 years old, he lives in Sliema in Malta and he is the father of three kids. That gives us an introduction, Arnaud, about you and about what you're doing. What I'd love to do first is talk about MeDirect. In my introduction, I talked about MeDirect being in the Netherlands. I think you just started here, but maybe we can run through the different stakeholders to structure and get a sense of what MeDirect actually does for people that do not know you. There will certainly be people that do know you, but I'm sure there are also people that do not know you yet. So maybe to start with the customers, who are you serving?
Arnaud: Thank you, Jeroen, once again thanks for having me. We are serving mostly retail customers, retail investors that are looking for very convenient online investment solutions. Typically, the average customer would have on the platform around € 50-60,000 on investments and deposits.
Jeroen: I hear retail and online, these are the two keywords?
Arnaud: Absolutely.
Jeroen: So you don't have offices?
Arnaud: We have a small exception in Malta, one branch. And we of course have a core centre, which is a very important part of the value proposition, but it's mostly a digital bank online.
Jeroen: Right. And with 50-60k, that means it's accessible to a lot of people, but not to everyone?
Arnaud: In fact, we have no minimum amount to be a client of the platform, so as we will discuss, it's really about democratizing access to high-quality investment solutions online within a platform that is easy to use and we like to summarize this as the wealth super app concept.
Jeroen: The wealth super app concept, explain a little bit more?
Arnaud: If you go back to our purpose, which I think is a very noble purpose, but not easy to execute. It is basically to empower people to grow their money with confidence and autonomy. This is what we are about, and we have built with this a wealth super app with three things in mind. Giving the customer the choice on how he wants to invest, inclusion, giving access to high-quality wealth services through the platform at low cost and without minimum threshold. In particular, we have launched a new product, which is a very nice discretionary management in partnership with a main asset manager and without threshold. And third is the idea that we have to develop the confidence of the customer through support, guidance and transparency. We will probably go into the details, but the way we built the value proposition is really around these three main pillars of the super app.
Jeroen: Choice, inclusion and confidence in support, my very short summary.
Arnaud: Yes, exactly.
Jeroen: If we go from the customers to your colleagues and all the people that work in your organization, how many people work there, what are they doing?
Arnaud: We have around 400 colleagues working for MeDirect. Most of the staff is actually located in Malta, because this is where we have our technology backbone. We are in fact a hybrid between a tech company and a bank. So as a bank, we are regulated by a European bank under the umbrella of the ECB, the European Central Bank (linked to interview Board Member European Central Bank Frank Elderson). We have a banking and investment services license and we operate at ECB-standards, obviously. As a company, we have the technology platform in Malta and we have our clients across Europe, mostly in Belgium today, some obviously in Malta and very soon in the Netherlands and we have the ambition of scaling up in one or two other countries.
Jeroen: Does it mean that most of the people work in tech and then some in finance or the other way around?
Arnaud: It means that around 70% of the staff is actually technology and UX-design guys building digital channels and integrating an ecosystem of partners on our platform to create a value proposition. When you think about what an online financial product is, it's a combination of three things. It's the financial product itself, so equity, ETF, mutual funds, bonds and other products. In fact, these products have not changed too much over the last twenty years, what has changed is the second layer, the user experiences. How you build a customer journey and backed by very flexible technology. Most people working at MeDirect are actually building customer journeys and are a part of the tech environment, globally speaking.
Jeroen: Why Malta and why Belgium and also why the Netherlands now?
Arnaud: I've been part of this group for the last three years, but MeDirect was in fact created eight or nine years ago. Initially, out of Malta, the idea is that you have a very large pool of talent in the tech industry in Malta. You have video gaming, iGaming and a telecom industry in Malta that is quite developed. So we could draw our talent pool in this industry. Belgium was a bit historical, I think. The previous management was looking for a market where they could raise online deposits and they basically scanned Europe and chose Belgium. What we've done is to really transform the culture of the company into something much broader, focusing on what we call wealth tech, which is providing superior online solutions on the platform, providing choice to clients and inclusion and transparency. We said, "Where are the markets where we can operate?" Obviously, we want to grow further in Belgium and Malta is a small market, but we want to grow there as well. And naturally, we thought about the Netherlands for the cultural proximity to Belgium. But also because it's a bigger market and, most importantly, it's a market where we think there is still space to innovate. Despite being very competitive, despite having a number of specialist competitors out there and common banks that provide good products, we believe that our positioning is going to be quite unique and attractive to really democratize investment.
Jeroen: I'll just stay with my structure of the stakeholders for now, you mentioned that the business started eight or nine years ago, something like that, who founded the business and who is currently owning it?
Arnaud: AnaCap, which is a Private Equity UK-based fund, owns the company and that has been the case since the launch. It's one majority stakeholder. If we go to the clients just a bit, the platform is developed to the extent that we have over 4,5 billion of assets managed on the platform, a bit more than 100,000 customers. We like to position them as mass affluent or affluent customers in banking terms. So typically, our sweet spot are people that have anywhere between € 10,000 to invest all the way to up to € 500,000 to invest. So it's quite broad and on average, as I said, € 60-70k.
Jeroen: Right. And you already mentioned the European Central Bank being the supervisor, so you could actually launch anywhere in Europe at the moment.
Arnaud: Yes, we are passported out of Malta throughout the whole of Europa. This gives us flexibility to think about new markets, but step by step. Right now, we are focusing on the Netherlands and creating something quite unique again for this market.
Jeroen: Right. Because I could imagine, if you started eight years ago, that you actually want to roll out this model in as many countries as possible. But for now, it is still mainly focused on Malta and Belgium, right?
Arnaud: Yes. Because the shift to really grow a wealth-tech franchise is fairly recent at the level of the company's history, so three or four years. And for the first three or four years, it was a bit different. So we really accelerated in the last three years.
Jeroen: Right. One last thing about this structure of stakeholders, if you look at society at large, what is the added value you want to have?
Arnaud: Again, it goes back to the purpose. Most of us understand that thinking about how to grow your wealth in a way that makes you comfortable, understanding the risks with transparency of information is a very complex topic. Investing is a complex world and our goal is to really simplify this and to create the confidence that one needs to have to start. Putting money in different types of investment solutions within an app that will bring together a choice. It's about democracy, so choice means that we have on this same app execution-only offers on a wide architecture/open architecture basis. We also have discretionary management offers available online and we're looking to build something broader than this, also covering all the types of guidance solutions that you could have between execution-only and GPM. And we have a lot of innovation in the pipe that will come a bit further after launch, but that will be a part of the construction of the platform. We even have savings products that will come. So in the end, customers will have the choice, "I want to have a simple savings product" or "I want to try for myself and start using the execution module" or "I need help." This is where we will really bring something to the market by creating some tools that can guide the customer in framing his portfolio, in benchmarking his portfolio versus indices in understanding the risk reward of the portfolio and how much you would have today if you had invested one, two or five years ago. And then making it very simple in terms of execution, so you have € 10,000 to invest, you have three ETFs, three equities, maybe one mutual fund. In the Netherlands it's not as attractive than in other markets, but one click execution, all the seven instruments are basically in your portfolio. So it's something very simple. And I dare to say that in the end we really want to replicate, but digitally the dialogue that the client would have with his advisor at the branch and make it very simple, very transparent and we think that's how you build confidence.
Jeroen: Yes, that's really interesting, because a lot of people at fintechs now also talk about actually not the tech part, but more the personal part, right? How to connect people, using tech for that. That's obviously not always easy, because having someone like we do right now, having a conversation, is obviously different than we do it over Teams or Zoom or whatever.
Arnaud: You're right, it requires a lot of thinking on how you build that value proposition. Obviously for us, confidence is driven by three things: transparency around pricing is very important and here we want to create something simple based on a service fee but without limitation of volumes without complicated rules to understand. That's the first point. Secondly, it's really the depth of information you have available on the platform, on the securities that you invest in. So all the way down to the financial statement of the company, easily accessible online, but also around the cost you pay, very transparent as well as the reporting you get on the performance. So we've worked a lot on creating simple reporting to explain financial performance to a client online within the app. That's how basically you start to create the confidence and we add to this the ability to access the call centre. It's very important that we have people answering when clients may have problems or questions. So they are not advising, they are providing information but it's a big part of the value proposition.
Jeroen: So if you really want, you can get an actual person on the phone. In 2019, you started with MeDirect, right? At some point, they got on the phone to see if they could hire you. Did you ever hear about MeDirect before? Were you aware of the business?
Arnaud: Not at all, no. To be honest, before I was working in the largest – geographically speaking – country in the world, which is Russia. Unfortunately today, it's a very different environment. And I came to probably the smallest country in the world, which is Malta.
Jeroen: Why did you move to MeDirect?
Arnaud: I've always been an entrepreneur or intrapreneur within large groups initially. Leading transformations, digital transformations in such a degree of a large group. So SocGen/Société Générale mainly, and at some point, I said, "I want to have more impact, I want to trade something with a very bold vision, a very bold purpose and mould a team around that vision and purpose and deliver something unique." At MeDirect, we have now a new set of managers that have been recruited over the last three years and we have a great guy in the Netherlands as well, Joop, who is not far from here. And they all believe in this vision, they all believe in the vision of creating a totally new approach, the idea of empowering people, creating confidence through a very smart analysis what should be the customer journey, what type of choice we provide, how we create confidence. That's really what we are about.
Jeroen: How different is it for you personally to now being Group CEO of this business with about 400 people versus running a part of a much larger business?
Arnaud: Before I was running platforms with 5,000 – 10,000 people. But the number of people is really not what interests me, obviously. The big difference here is that you have one shareholder and you're first in line. So you have the full ability to impact the way the company operates. You also take the full responsibility and you have very effective levels. It's a very flat organization, we have over thirty nationalities in the group, so it's truly multicultural. And it's very easy, I very often spend time talking about UX with the team. So that's what it's about.
Jeroen: You actually could almost know everyone, although 400 is a lot, right?
Arnaud: I know a good 75%, I would say.
Jeroen: We're not going to check it here, but that's quite a lot! That's almost 300 people. That's great. How is it to live in Malta, on an island?
Arnaud: It's nice, especially if you like the sea. Malta is a very interesting place, really a melting pot of different cultures, traditions, architectural influences. Obviously, British influence for the last 150 years, it finished in 1964. And also a very strong catholic culture, it's one of the distinguishing factors in Europe, like in Poland. And at the same time, a very mysterious language, sounding a bit like Arabic with an Italian accent. So it's quite unique.
Jeroen: Are you able to speak it a little bit already?
Arnaud: No. Bonġu is like bonjour in French, so this one is very easy.
Jeroen: Right. Do the Maltese feel European?
Arnaud: Absolutely. It's part of the European community and they are very proud to be a part of the European community. They had a bit of a transition time between when the British were there until they actually joined the European Union in 2005. I think they are very, very happy now as a part of the EU. And again, they also play a small role, but a specific role in terms of nearshoring, providing very attractive tech capabilities to large corporations based in Malta and probably at a more competitive labour cost than elsewhere.
Jeroen: Yes, because they are well-known for that, right? For the especially thriving tech industry. Do you have any idea on why that is the case?
Arnaud: They've also structured some tax advantages for specific sectors. So the companies that operate there have some advantages from a tax standpoint. Besides, it's a nice place to reside. You'd be surprised, but you have a lot of expats, you have a lot of people coming from the Nordics, from Britain, from all around the world. So it's a very multinational/international feeling, of course with a strong Maltese culture, but a lot of advantages.
Jeroen: Yes, I recall a very long time ago that I lived there to study English, it's a great place to improve your English.
This is Leaders in Finance with Jeroen Broekema.
Jeroen: As I said in my introduction, you worked in different countries. In Poland, in Russia, you are from France, what are things you have learned in all these years working in other countries? It's a very broad question, but from a cultural perspective, how different and how important is culture to get things done?
Arnaud: The first thing that helps you is being open-minded, have no preconceived judgement on the culture of the country, how people should operate and basically try to blend in by opening up and create a zone of comfort you have with your colleagues. I've worked with Americans, I've worked with Poles, I worked with Russians, now I work with Maltese. Maybe I'm comfortable with this because of my own background, being born in Indonesia, having lived in Thailand. But I've always worked in this environment. And then, once this is said, it's about hard work, it's about consistency, predictability and respect. And the culture we have at MeDirect is based on two things. I want people that are open-minded and curious and ready to challenge themselves. I think that is by far the case. And people as well that are focused on delivery, getting things done as part of a team. It's very much team-focused, in such a competitive and difficult environment, we cannot think we can do it by ourselves. So the focus on teamwork, the focus on being organized in squads and so on is very strong in the company.
Jeroen: When you worked in Russia, how was that time? Also, do you look at Russia – it's obviously from a different perspective now – and do you have the feeling that you understand things a little better than we get to see on the news?
Arnaud: Yes, for sure. I don't want to make comments in this podcast, but basically when you live in a country, you have a better feeling for how people behave, operate, what their drivers are. So just to give you a trait of characters, usually in Russia I found that it was much more difficult to break the ice than in America, for instance. In America, it's easier to break the ice more open initially. But once you've broken the ice with your teams, and that applies to working relationships, then you have a very high quality of discussions, of contact. And in fact, your team mates want to know about you as a person, as a human being, not as their boss. And as soon as you open up and you're true in your discussions and you tell them who you are and what your family is doing, what you like in life, then the professional relationships become very effective.
Jeroen: So you actually knew quite a lot about your colleagues, your management team and everything?
Arnaud: Yes.
Jeroen: But you were also willing to share yourself, that is what you have to do then?
Arnaud: Yes. You have to open up. You have your intimacy, but you don't hide. You explain who you are, where you come from. That was one of the very striking things that I remember about working with Russian colleagues.
Jeroen: You already mentioned that you grew up very far away from here. Can you share with us why you grew up there and how that all came about?
Arnaud: My father was an engineer, working around the world. When he was building ports and roads and train stations in Thailand at that point, working for a French engineering team, I was born there. And it continued for a couple of years, after Indonesia I was raised in a mostly Anglo-Saxon educational background until the age of 15 or 16. Then I went back into the French system in Australia and in England and I finished my studies in France. Very quickly, I travelled again abroad, I spent 80% of my life outside France. So very much feeling like an international citizen while being French by culture, but in many ways not being French as well.
Jeroen: Did you feel like a global citizen?
Arnaud: Yes, that's me.
Jeroen: Your parents are both French, you said?
Arnaud: Their own story is a story of immigration in other countries, so it goes back a long time. Not to spend too much time on this, but my grandfather spent ten years in Indonesia in the 50's. My father spent ten years in Indonesia in the 60's and 70's and just after I was born. And my elder brother spent ten years in Indonesia in the 80's. So that's the kind of thing we have in the family, it's in our DNA, traveling around.
Jeroen: Yes, I was going to say it, it's almost in your DNA. That's right. What were the languages you spoke at home? Was that French?
Arnaud: Bahasa Indonesian is spoken

Jeroen: That was the language you spoke at home?
Arnaud: No, that was when I was small with my nannies, that was Indonesian. I spoke mostly French and English and then as a child I actually learned Thailandese as a small child, but it's a very hard language, I forgot it completely. But I can still speak a bit of Bahasa Indonesia now, it's a fairly easy language to learn. And of course a bit of German, a bit of Russian, a bit of Polish.
Jeroen: That's amazing! The stereotypical idea that people have about expats, I have that idea as well, is that they are really good at connecting quickly, but on the long run, it's really hard to keep relationships because they are so used to getting to know people, say goodbye and move to another place. Is that also something that counts for you and your family?
Arnaud: I still have friendships from all countries. Not dozens, but in every country, I have a couple of friends, two, three or four good friends. This dates back to the US, but I have very good friends in Russia, a very good friend in Poland, very good friends in the US. So you can imagine that with what's happening right now, it's not easy to position yourself and discuss it with your friends, because they are your friends after all, that you built in the last 25 years. Lasting friendships and unfortunately, the world is what it is.
Jeroen: I can imagine, that's hard. And about the way you were brought up, do you have brothers and sisters?
Arnaud: Yes, one elder brother who actually lives in Singapore. He thinks the centre of the world is over there, so he says he's going to stay there for long.
Jeroen: Whereas you think it's Malta.
Arnaud: Exactly. Malta is soon the centre of Europe. My sister is a lawyer and she lives in Paris, so a bit all over the place.
Jeroen: The way you grew up, can you share whether certain values or thinking that was special for your family?
Arnaud: First I was always taught to show the utmost respect to local people, their culture, try to understand them and never think that you have the solution and you think better than them, never. That is a big learning point for life in general. And the second thing is that reality is never really what it seems. And I would say, the more you hear about something or something is presented in a way, the deeper you have to ask yourself the question, "Am I hearing it properly? How do I do my own assessment? What is the information I look for to make my own judgement?", and so on. In Asia for instance, someone who smiles in Asia doesn't mean he's smiling. It means he acknowledges something, he may be embarrassed or he actually may be angry. So you need to decode this and to go one step beyond. That's where building quality relationships and opening yourself will help you get the truth from others as well. So take some distance, build relationships, show some respect and show ethics. Because ethics speak everywhere, you work hard, people respect you.
Jeroen: Were there certain typical French things that your parents brought always with you?
Arnaud: No, not really. Back in the day, eating cheese was not easy in Indonesia in the 60's and 70's. Usually, my father would bring back cheese from his business trips. I remember this.
Jeroen: That's great! And at some point, you come to France to study. How was that? Because it was a completely different environment for you, right?
Arnaud: Yes, it was. It was not easy, sometimes you're seen a bit as an alien because most of your classmates have grown up in one system in France. But again, you just blend in and adapt. I've basically learned to adapt all my life, moving from one country to another every 3-5 years. You develop that comfort zone where you can be well everywhere. I remember in the US that my colleagues were saying to me, "You're the most American of the French." Okay, fine.
Jeroen: That's brilliant! And how was your student time? Were you a party animal or studying hard or something in between? What was it like?
Arnaud: I think it depended on the time. A more serious guy, liking sports, not pushing too much to the extreme, I would say. Not too much.
Jeroen: You went to a very prestigious master, HEC. It's not easy to get in, I guess?
Arnaud: It's the French system, which has its advantages but also its disadvantages. It's a very competitive system, it's very elective, you have to work very hard to get into classe préparatoire and then business school. It's changing a bit now. The problem with that system is, people who can substantiate the work load and do their work and be selected is great, but it destroys a lot of people that fail. So it's a system that doesn't reward fairly at all, it only rewards success and if you fail, you're often considered as not very well. And that's a problem because we know that the goal of a manager for instance is to get the best out of everybody. And the French system is exactly the anti-element of this. I would not recommend to have this applied broadly.
Jeroen: At one point did you know you were going to work in financial services?
Arnaud: I did it by coincidence, honestly. In 1990, at that point you could basically go into audit, you could go into consulting or you could go into banking. And then you had two choices, either you would go on the trading side or if you were at Société Générale, which is the company I worked at for many years, you start within internal audit or inspection. So not a very original path. And my father was working in banking at that point, after the engineering part of his career, so maybe I was influenced.
Jeroen: I was going to say that, he was an engineer, but then he went into banking?
Arnaud: Yes. When he was 45 or 50, he again had a big change of life. We like to have big pivots in our personal model.
Jeroen: That's interesting! So you love to work internationally and you like big pivots.
Arnaud: Yes, exactly. So Malta and Private Equity and building MeDirect is a pivot, but it's a pivot for a long time. We really believe in what we're doing and we want to build something really disruptive in the end.
Jeroen: Right. When you started at SocGen and in these very large institutions, could you now – when you look back at that time – say that you were very ambitious?
Arnaud: I guess yes. I've always wanted to have an impact wherever I went. You can translate this impact into financial performance, obviously. So I've done a lot of turn-around from loss-making entity into profit-making entity. But the best impact for me is building teams and feeling that you are creating something unique and people like what they're doing. As a coach with your team you deliver step by step and then things become bigger and that's a great satisfaction.
Jeroen: Right. Maybe the next question I should ask your team and not you, but the only one I can ask right now is you, what's your way of leading and managing your teams? What's your style?
Arnaud: I have a lot of energy, I'm very enthusiastic in what I do and I try to translate this into things that are very concrete. So when we started to think about the wealth tech approach and the wealth super app, "What do we put on the platform?" And you foster a co-creation like this and you're a part of that process. And I think this is very powerful. I'm also very impatient as a manager, they know this. A lot of expectations. But in the end, sometimes I can be softer as well. So it's a mix. And you want to create that personal touch with everybody you work for, so that in the end they like it. They like you as a manager, they feel that they can communicate to you. The simplicity of communication, open doors, that is key.
Jeroen: And when things are not going your way, not the way you want them or, as I just learned, you're impatient like myself, if things are going slow, that annoys you a lot probably. So how do you deal with that stress? Are you able to deal with that easily or do you find it difficult?
Arnaud: I started yoga three years ago, so now I can do stuff on my head and my legs up.
Jeroen: You really do that?
Arnaud: Yes, absolutely, I'm not joking. I've always done a lot of sports, but I realized that as I grew a bit older, tennis was very hard because I got injured a lot, I was playing a lot of tennis at a very good level. Then I stopped and I went into doing marathons. I was good as well when I was in my 40's. But then marathons can take a toll as well on your knees. And so, basically for the last couple of years I thought, "Let's do something suitable for my level of physical fitness today for my age." And I found yoga, which is as much a spiritual thing as a physical thing. I really love it. It gives me a lot of energy and when I want to completely refresh my mind, one hour of yoga. And when you get to the point where you know enough about it, you can do it yourself. So you just go out there, put your mat on your balcony, breathe the air and you get going.
Jeroen: So even in sports you do big pivots.
Arnaud: Yes, exactly. With a bit of boxing as well right now, it's very hard, for the cardio.
Jeroen: But it sounds like, with the marathon and the tennis and the boxing that it's all quite competitive, right? But yoga is just competing with yourself, I guess.
Arnaud: Yes. I've always been very good at many sports, but not great at any sport. So now I choose yoga and I will stick to yoga.
Jeroen: What were other big pivots in your working career?
Arnaud: In fact, my working career had four different phases. I started in audit inspection, which is very structured. You basically understand what finance and banking is about. And after six or seven years, I went into fixed income and trading, so there were my US years, from 2001 until 2008. I saw the ups and downs of Wallstreet, I learned a lot. I was up and down.
Jeroen: Were you there with Lehman or were you gone already?
Arnaud: We were still there during the Lehman crisis. So I saw first-hand the great GSE and I decided at that point that I had enough of that world. So I then went onto consumer finance, totally different. I used my SocGen network and unfortunately, I still had to manage crises because the credit crisis went through the Atlantic and went to central and eastern Europe. But this is where I learned consumer finance, this is where I really dug deep into retail and started to focus more and more on digital. I did some turnaround in Poland. I think we did some great things in Poland, eventually we sold the company. Then I was asked to go to Russia also, to basically develop digital and streamline the company. And in the end, I said to myself, "Now I really want to focus on technology and user experience. These are the two things that now drive me after many years talking about more traditional finance, credit, mortgage and consumer finance." This is less of interest to me, and again, building wealth management solutions and wealth management platforms that are disruptive is a kicker for me now.
Jeroen: And these terms, I'm really curious about it. Does it also have to do with the fact that at some point you're kind of bored and you need some completely new experience and challenge?
Arnaud: I think it's the opportunity, each time an opportunity comes and I take a look, I'm not afraid of taking risks. I try to measure them, but one of my friends who's an entrepreneur said, "If you want to go in that direction, you have to be ready to lose everything, even if you are 40 or 50. If you're ready to lose everything, that's when you do great things. If you're not ready for this, it's going to be harder."
Jeroen: But then, have you at some point thought, "I'll just start something completely myself"? Because you called yourself an entrepreneur but not a full entrepreneur where you take all the risk yourself.
Arnaud: Let's say I take part of the risk and I invest it, let's put it that way.
Jeroen: So you can actually call yourself intra- and entrepreneur.
Arnaud: Yes.
Jeroen: That's great. So that was a wish for you then?
Arnaud: Yes, exactly. A long term wish.
Jeroen: Can you just elaborate a little bit, I know a little bit of the answer since I know you about half an hour now, on why you found it very important?
Arnaud: I think it's the idea that you want to impact the world. So you want to modestly impact the world in the way you can. And if you are in finance, it's about thinking how you design new customer journeys. There are so many unaddressed pain points. On the one side, if you're a retail investor, what are you facing? So first, you're not a specialist, so you have trading apps but you can't really use them. Second, your universal banking app usually is not very advanced in terms of investment capabilities. Third, when you have your investment advisor in the branch, some provide very good advice obviously, but often there is a level of dissatisfaction on why you are being sold such a product and the level of reporting as well. So there is a big unanswered need and of course you cannot access private banking. So that's the raison d'etre for MeDirect to fill that gap and create something that we hope will really bring value to consumers and if the purpose behind it is to help people grow their money and manage it with confidence, we think it's a great thing to do.
Jeroen: That's a great segue to the Netherlands, because obviously a lot of my listeners are in the Netherlands, they are really interested there is a new player coming into this market. I think a lot of people would say that there already are quite some players doing something similar. Is that something on your mind as well?
Arnaud: If you think about what we're providing, I think we are providing a cross-section of things that are not available on one single platform. So of course you have very good competitors and wealth specialists, but most of them are execution-only, I think. Secondly, you see that the evolution that you've had in this market – although I'm not a specialist – the regulator is taking some stance on some things that are done by competitors in terms of securities lending or other ways to basically process trades. We want to do simpler things and we want to reflect this in simpler pricing structures. The focus on education, we don't see it, to be honest. We don't see too much in this market. So if you provide content and if you provide access to education and if you have a platform where you can have the choice, execution-only or with more help, more support, we call this portfolio building, or delegation fully though a DPM product, you wrap this into a very nice customer journey, you put some transparency, you put some educational content, you focus a lot on how you explain performance, that's the product. And we think that this doesn't exit. By the way, not only in the Netherlands, in many European countries you don't have this. And what's obviously hard to do is to assemble this and to then scale it across one to four countries because you have specificities regulatory-wise, universal securities are not the same, pricing and structure are not the same, tax rates are not the same. But through technology, we are good at this, we are good at what I summarize in our approach, which is to scale globally, but feel local. So the local feeling component in wealth in particular is essential.
Jeroen: Right. If you look at the Dutch market, what would you say is the biggest challenge for you? What are you most concerned about to grow the business here?
Arnaud: I think that the Dutch consumers are investors. Of course, they're still very much price-driven. But now, and we see this in surveys, they are looking for a one-stop-shop solution. It has become the primary criteria as opposed to price. Because of this, they are also ready to shift when it comes to wealth solutions. We think that is a very good fundamental to enter the market. We know that in this market, maybe even more than others, we have to be super sharp in terms of creating this confidence with transparency, to very concrete unique selling points, to a flawless execution. I think the consumer in the Netherlands has very high expectations in terms of quality. And I think we are well-positioned for this. Building this is not going to be done easily in a couple of months, it's going to be a journey. And we have to create a value proposition with a lot of clarity in the USP upfront around pricing, around education and around guidance and wrapped in a very simple platform to use. That's the key. We don't discuss it, but in fact the platform can be used as well as a daily banking app. We have not yet integrated all the local solutions, but on my app I send money to my kids, I pay my invoices, I go to the restaurant. So that's available and the idea behind it is that in the end we really want to position ourselves at the cross-section of wealth specialists but with a really deep integration of the wealth space and transactional specialist. So you take the big transactional neo bank out there, you take the wealth specialist, we're in the middle.
Jeroen: Right, that's a very clear explanation.
You are listening to Leaders in Finance with Jeroen Broekema.
Jeroen: With Leaders in Finance, we always have a pleaser and a teaser. The pleaser is always about books, but let me start with the teaser. What I am specifically interested in is your background in very large banks and then across the globe and then now working in wealth tech fintech, or however you want to call it. My teaser is: the major banks will only further lose grounds to the large tech and maybe the wealth fintech, all kinds of other tech-oriented players. So major banks, the big brands out there, the SocGen's, the ABN AMRO's (linkedin to Robert Swaak, the ABN AMRO CEO), ING's, whatever, versus fintech, they will only lose further ground, those major players. Do you agree?
Arnaud: I think that they run that risk, for sure. They run that risk seriously. And again, it's about technology. I've worked for large banks, so I know that what we are able to do at MeDirect, for instance, I just give you a sense of this. Every day, we put in production eight to nine new features on the platform. So this continuous innovation, continuous deployment, continuous innovation as a software company. You could never dream of this in a larger organization. And you wrap this into a positioning that we summarize in our promise: 'Your money, your choices'. We speak not as a company, but we want to speak in the name of the client, "This is your money, so we'll give you the choice on how you want to invest, we'll make this simple for you." You want to invest in high quality wealth services, which you usually cannot have access to in your current bank, like DPM and for very competitive pricing and very transparent pricing. This is not easy to do for any common bank.
Jeroen: So you agree that we'll only lose further ground?
Arnaud: Yes, I agree.
Jeroen: Or is that what you wish for?
Arnaud: A bit of both, but you need to dream your future so that it becomes real.
Jeroen: It becomes a self-fulfilling prophecy. On the pleasing side, are you a person that likes to read? Let me first ask that.
Arnaud: I read quite a bit to free my mind, obviously, and to learn a lot in particular about history, about the past. So I read a lot of books like that. I knew you would ask this question, so I was thinking, "What can I bring to the table today?" I decided to bring a book, called The Culture Map, by Erin Meyer, a professor at INSEAD. Basically, the book is about decoding how people think, how people lead and get things done across culture. That resonated a lot with my own history and I found the book very well written. Also funny things like how you give negative feedback. Giving feedback is one thing, but how do you give negative feedback?
Jeroen: Tell me?
Arnaud: If you're Dutch, you just do it very directly, it's not a problem.
Jeroen: I saw that one coming!
Arnaud: And it's well-accepted, but in other cultures, if you do this you lose. Because you make the person lose face so you need to have other ways of creating the feedback process. So how do you build trust? You have some cultures where the trust is task-based, so you build trust by doing things together, executing. And you have cultures where the trust is relationship-based, you build trust by having a beer or whatever. So how you manage this between different cultures or what's your perception of time, sometimes time is very linear, sometimes time is flexible, depending on the culture. And I actually have a quote from the book that I wanted to read.
Jeroen: That's wonderful!
Arnaud: Erin Meyer was interviewing some different groups of managers from different countries. The quote is: "Germans always complain that the British are disorganized, chaotic and always late." And then she was talking to the British, "The British think exactly the same about the French." And then she was talking to people from India, "Indians complain that the French were rigid and flexible and obsessed with deadlines and structure to the point that they were unable to adapt." So you see, it's a question of who you are talking to and what your starting point is. And that's cultural diversity and this is what you need to understand. And this book is great because it has a lot of anecdotes and it's an instrument to decode this. So I love the book.
Jeroen: I love the way you talk about it, it's well-prepared as well. I loved that quote, by the way. That's really good! It resonates a lot with what you have seen in your youth and all the jobs after that, I guess.
Arnaud: Exactly. I was really amazed that this woman could summarize this in a very smart way. I love this book because you have anecdotes, but you also have nice metrices with axis x, axis y and you position the different cultures on metrices and all that. It's interesting.
Jeroen: Do you know that the Dutch – just to give you one hint for working here while you have your people here – use the fact that they are stereotyped as being direct as a way to say something rude? They just use the disclaimer, "I'm Dutch, so I can say whatever I want." Which is obviously not a way to go in my view, but that does happen quite a lot, actually. So that's one for you.
Arnaud: The French don't do this usually, they swear more.
Jeroen: They just swear more?
Arnaud: Yes, my teams know that when I say "Putain de merde", it means I'm not happy. So that's simple.
Jeroen: Quite direct as well, in a way.
Arnaud: Yes.
Jeroen: Indirect direct. Very clear. In terms of reading about what's going on in the world, where do you take your news from?
Arnaud: Now it has become a combination of three things. Obviously, some newspapers like Wall Street, Financial Times or Le Monde or whatever selection of newspapers. A lot of podcasts as well, more and more podcasts and more and more feeds from Facebook, for instance, that I find interesting. And they start to know me better and better.
Jeroen: The algorithms work.
Arnaud: Yes, exactly. And then for quick information, a bit of Google news. So it's a combination.
Jeroen: Right, thank you for that. And one thing I've asked almost 130 CEO's now over the years is: Do you have tips for people that start their jobs specifically in financial services? Do you have something you would recommend them? Or something you would actually recommend your 20-year-old self or whatever age you were when you started working?
Arnaud: It's what I said to my son: Don't be afraid to take risks. When you are 23, 25 or 27, just do immediately the dream job that you want to do. So if you want to build something, try to build something. If you have an intuition, if you have a gut feeling, go for it. Don't be afraid to take risks, especially when you're young.
Jeroen: Would you have liked to have done that a bit more yourself?
Arnaud: Yes, probably. But I was raised in a very traditional family, despite being a family of pioneers and so on. I have this part of my mind which is very rational and traditional and the other part which is all about creative innovation. I love music as well, I have a lot of extra activities around music, music production.
Jeroen: Do you play yourself?
Arnaud: Yes, I play a bit. But mostly I produce music with some unknown bands.
Jeroen: Can you explain a little bit more? Because this is quite abstract to me.
Arnaud: It means that I have some family members are trying to become known as musicians and I would basically do some artistic work with them to give feedback on their songs and so on and try to improve them if I can. I give them feedback because I have a good ear. Maybe it's linked to the language thing as well. And then put a little bit of money on the table and help them design a social media strategy or show them to big labels and so on. So kind of as an investor, if you will, in that space.
Jeroen: That's really interesting. It's also very entrepreneurial. Did you already have a hit with one of them? Did you already see progress?
Arnaud: Yes, in particular a group called Superjava, go and check it out.
Jeroen: You can find them on Spotify?
Arnaud: Yes, absolutely.
Jeroen: I will check it out, maybe I'll put in the show notes. A couple of last questions, how do you manage your busy life and how have you managed your busy life with your family and kids? How do you do that?
Arnaud: My kids are grown up now, so they are at university. But it's true that with hindsight, although I never like to regret things, and this something I would recommend as well to young people to try to manage better: while acknowledging that hard work is necessary, make sure that you spend enough time with your loved ones because life is always too short. Not only with your children, but with your parents as well.
Jeroen: That's well said. Looking to the future, fingers crossed you are healthy and things are going well, what is your dream for MeDirect and what's your personal dream in the long run?
Arnaud: For MeDirect, we want to be established as a recognized brand and platform across three or four countries. With brand awareness and the go to platform for the retail market in terms of digital wealth. So that is a business dream. I want to have embarked on that journey a team of managers that really are motivated to succeed and to be a part of this journey. So again, it's about feeling good and building businesses, while keeping your health and your balance. So that is where yoga comes into play. That's enough for me, nothing more. I'm looking to create something good for consumers through technology. I chose the wealth space because I think there are a lot of unaddressed pain points.
Jeroen: It was a great conversation, Arnaud, I really enjoyed it. There are always a lot of other things I could've asked, but my last question is always the same one, which is: Is there something you would have liked that we would have spoken about? Something you would like to have discussed with me during this podcast?
Arnaud: Yes, maybe your feedback on how you see CEO's in general, to the last question, for instance. What response struck you the most?
Jeroen: Over all these conversations?
Arnaud: Yes.
Jeroen: It's hard to pick one thing, but I think when people are willing, like you were in this conversation, to be a bit more personal, a bit more vulnerable about things, then things become really interesting. Because then people understand that CEO's like yourself, having really important positions with a lot of responsibility, that they are also just people. They also have their things they need to overcome and you have overcome things. These conversations, without picking one because that is difficult out of 126, I always find the most interesting and the most inspiring. Because then you can learn and you can put things into perspective from your own life, I would say. And if I talk to a founder of a business, that is different than to the president of the central bank. It's a different conversation by nature because they have very different motivations. But they are both very interesting.
Arnaud: Thank you, Jeroen.
Jeroen: I hope it answered your question. I'm going to thank you, because it was a pleasure, Arnaud, to talk to you today here in Utrecht about you, about MeDirect and everything in between. I'm pointing to it now, I'm going to give you a small present to thank you for your time. And I'm really interested to follow MeDirect here in the Netherlands and see how you guys are doing. Maybe we should check in the next few years somewhere to see to which direction this will be going.
Arnaud: I'm absolutely looking forward to that.
Jeroen: Wonderful, thank you, Arnaud!
Arnaud: Thank you, Jeroen!
You've been listening to Leaders in Finance, we hope you've enjoyed the episode and we'd love to hear from you. What's on your mind, who would you like to hear next? Tell us in an Apple or Google review, via e-mail or our social media channels. We'd greatly appreciate it! Finally, we'd like to thank our partners for their ongoing support. They are: Kayak, EY, Odgers Berndtson Executive Search and Roland Berger. Thank you for listening!